Today is the first day of school for my kids. Elijah was so excited to go back and see his friends. He is in the second grade this year. He loves school, praying he always loves school. I like his teacher. She seems really good. He was bummed that his best friend was not in his class.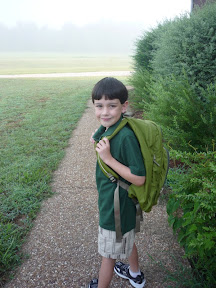 Sarah started kindergarten. Man, it has been a tough morning for me. It is always hard to send a child the first day of kindergarten, but one with special needs even tougher. She seemed a bit uneasy about it. She really wanted to explore her classroom, but her teacher was all business and wanted them to stay seated. She was also way overstimulated after spending an hour in the gym until they called her class. Next year I will not take her in the gym. I go pick her up in a bit. This week she will do 3 half days. Dreading the off days because she will want to go I am sure!
She did not want her picture taken, she wanted to get in the van and go! Here they are at school.
- Posted using BlogPress from my iPad